Morro Jable is located at the very south end of Fuerteventura Island and finding your way down there can start from the airport. While there is a public bus that heads that direction, there are many shuttle buses that are able to get you to your destination. Morro Jable is an elite beach and hotel combo. The sands are ultra white and the area is mountainous leading down to the beach. Like Lawrence of Arabia meets Point Break! The lovely area around town has many different hotels, bars and a wide variety of restaurants featuring fresh caught fish and all the trimmings involved with the seashore.
There is a wide variety of people that come back year after year, a large majority being Germans, who have chosen the south of Fuerteventura for long periods and permanent residence. Morro Jable was a Natural Park until recently, when a legislative ruling had downgraded this status due to economic interests in the area.
The promenade, near the shore, is a great place for a quiet walk or as the main path to get to the beach. Leading off to the lighthouse, the promenade heads off in both ways and acts as a divider of tourist beaches and resident beaches. Perhaps on accident, this division is a great way to meet people that you know are on vacation. There are many fishing vessels and a few have fishing excursions that are easy to find and almost guaranteed to catch at least a sunburn.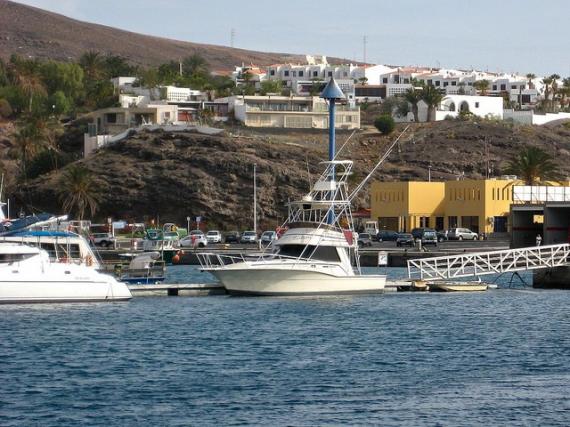 'Harbor in Morro del Jable' - Attribution:
Ina Widegren
The beaches here are amazing and the main beach stretches almost 4 kilometers and it is a must to have some water and provisions if you are planning on walking the entire beach and back. This is a desert island and the cool air is deceptive as the sun feels like it is a few feet above you. There are catamaran rides that are scheduled regularly. It is good thing to remember that this area has nudity or naturist areas and to steer clear of them you can look at the light house with the ocean behind it. Everything to the left is for birthday suits and, mostly, to the right is for good ol' trunks. This isn't enforced or anything but birds of a feather tend to hang out together. The beaches are really beautiful and many vacationers have named Morro Jable as 'Earth's Heaven', my self included.
There are too many amazing areas beachside to name them all, but you are almost 100% guaranteed to find the perfect place for you and your family. The waters here are calm and there are good shallows that the kiddies can play in and chase fishes and collect shells. The sand is perfect for the greatest of castles and the other beaches nearby are within minutes by vehicle. It is also possible to hire a rental car or a bike, but be sure to bring some water or vacation juice (beer). There are many ways to enjoy yourself while in Morro Jable it is just a matter of figuring out what the best of the best is!
To find your ideal hotels in Morro del Jable and around the world, we've created Travelmyth, the advanced hotel search engine with a huge collection of category filters. Whether you're looking for dog friendly hotels in Taunton or hotels with indoor pool in Tulsa, Travelmyth is the go-to place for hotel searching.